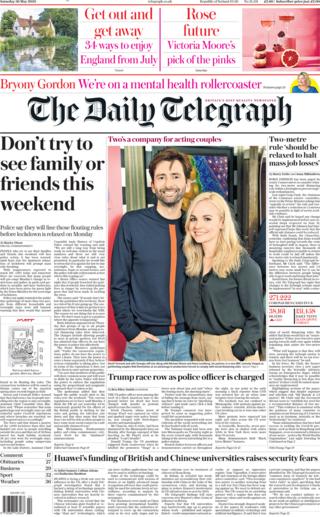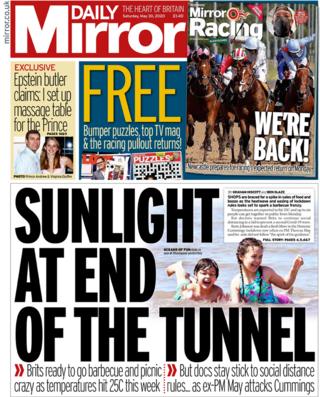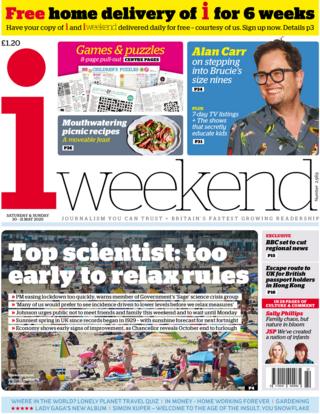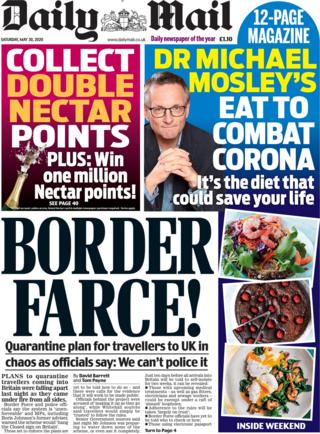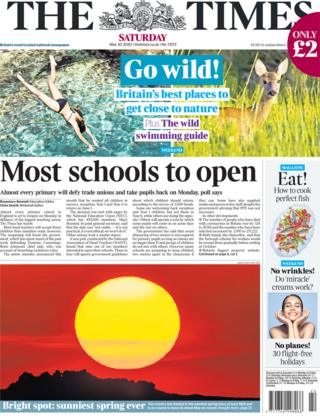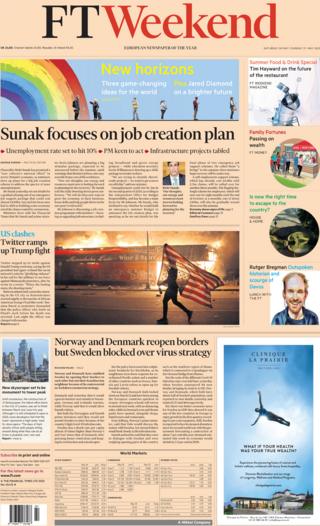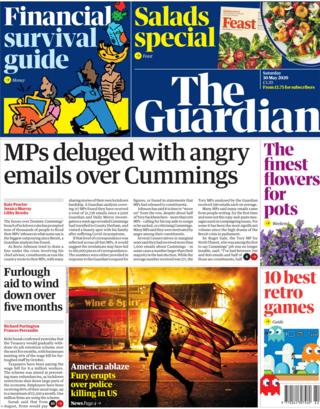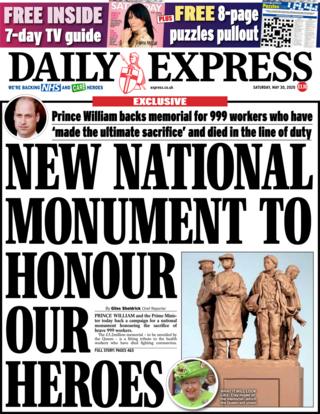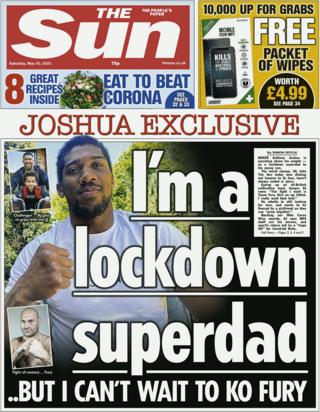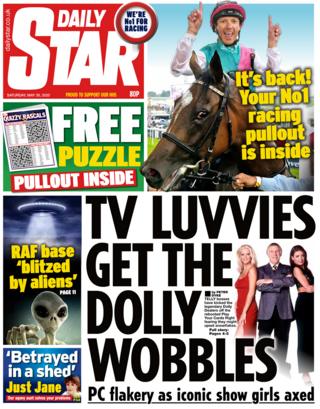 Many of Saturday's newspapers carry warnings about the need for social distancing during the coronavirus outbreak and fears people may disregard the rules this weekend, before lockdown measures are partially relaxed on Monday.
The Chancellor's statement on Friday also features, where he set out government plans to gradually end the furlough scheme to help workers.
The Sun throws its weight behind Rishi Sunak, declaring that he is "right to wean Britain off the furlough scheme, before it bankrupts us."
It accepts that the initiative has "saved millions of jobs", but describes it as an emergency measure only.
There is concern about the move in the Guardian. Its leader states: "Cutting support can only be sustained if the economy can be roused into life."
It suggests Mr Sunak should have removed the subsidies in stages, as business picked up after the crisis.
"Border farce!" declares the front page of the Daily Mail. It claims police and border officials are worried that they won't be able to enforce the government's plan to quarantine people for two weeks, when they arrive in the UK.
Questions are raised about another element of coronavirus policy – the two-metre social distancing rule – in the Daily Telegraph.
The paper says senior Conservatives are worried the restriction could cause "large-scale redundancies", because many businesses won't be able to enforce it, and will therefore have to remain closed.
"Sunlight at the end of the tunnel" is the Daily Mirror's lead.
According to the paper: "Shops are braced for a spike in sales of food and booze, as the heatwave and easing of lockdown rules looks set to spark a barbecue frenzy."
The i reports on what it describes as a "boost to teacher recruitment" caused by the lockdown.
It says the charity, Now Teach – which supports people wanting to switch their career to teaching – has seen a 70% increase in applications. It estimates that, after supervising home schooling, more than 1.5 million people are keen to make the change.
Finally, The Times reports on a super yacht with a difference. The 600 foot-long vessel, REV Ocean, is equipped with swimming pools and helipads – but you won't find it bobbing around any glamorous Mediterranean hotspots.
Its owner – a Norwegian fishing and oil magnate – plans to bring scientists on board to study the loss of polar ice, overfishing and plastic waste in the sea.
Sign up for a morning briefing direct to your inbox