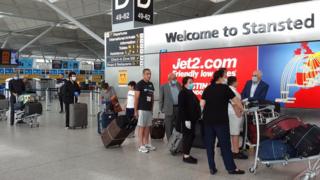 Plans to force almost all arrivals to the UK to isolate for 14 days have been confirmed by the home secretary.
Priti Patel told the Commons that Border Force will check that travellers fill out a form with their contact details and location for isolation.
Leaving isolation prematurely in England could result in a fine of up to £1,000 or prosecution, she said.
"We will not allow a reckless minority to put our domestic recovery at risk," she said.
Ms Patel told MPs that scientific advisers had said quarantine would not have been effective earlier in the pandemic when infection rates in the UK were higher.
But now, imported cases of the virus posed a more significant threat, she said, so it was now important to "protect our hard-won progress as we move in the right direction".
She said the "proportionate and time-limited measures" would come into force on Monday, with "limited exemptions" intended to ensure supplies of essential items such as food and protective equipment were not disrupted.
The regulations apply to England, and Ms Patel said devolved administrations would set out their own rules for enforcing the quarantine.
Ms Patel said the measures would be reviewed after three weeks and the government would aim to ensure greater freedom in the long term, including establishing safe "international travel corridors" with countries deemed to be safe.
Ryanair said the proposals were "utterly ineffective", with arrivals travelling from the airport before they isolate, potentially spreading infection, while the government would phone "less than 1%" of them" to check they were complying.
"This 14-day UK quarantine is ineffective, completely useless, and will have no effect on British passengers who will largely ignore it," a spokeswoman said.
The Confederation of British Industry said it needed more detail on how the policy would be reviewed, who would be exempt and how the international travel corridors with key trading partners could be created.
"Businesses and government urgently need to draw up an internationally coordinated plan to get people safely moving across borders as soon as possible," said CBI President John Allen.
Labour's shadow home secretary Nick Thomas-Symonds said people needed reassurance that this was not "a three-week fudge to try to spare the government embarrassment for failing to grip this issue at the right time".
He said only 273 people had been quarantined in the early stages of the pandemic as 18m visitors arrived in the UK, with the government's own advisers saying many cases came not from China but from places in Europe.
Under the new rules, most arrivals to the UK will have to fill out a "contact locator form" with details of where they will isolate for two weeks and how they can be contacted.
Anyone failing to remain in isolation will face a £1,000 fixed penalty in England, with prosecution and an unlimited fine potentially to follow, the Home Office said.
Failure to fill in the form can also be punished with a £100 fine.
Border Force can refuse entry to non-residents who do not comply, and the Home Office also said that deportation would be considered "as a last resort" for foreign nationals who fail to isolate.