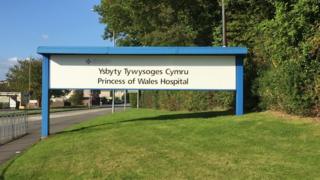 The father of a three-day-old baby who died after his mother tested positive for coronavirus has said the death of his miracle son was "beyond cruel".
Coolio Carl Justin John Morgan was born on 2 May at the Princess of Wales Hospital in Bridgend, but died three days later.
An inquest heard how maternal coronavirus contributed to his death.
His father Carl said: "The only time I saw him was on the last day of his life."
An inquest at Pontypridd Coroner's Court heard how Coolio's mother Kimberley tested positive for Covid-19 after she gave birth at the Bridgend hospital.
Coolio had fetal bradycardia – a low heart rate – and was transferred to Singleton Hospital in Swansea where he died on 5 May.
The primary cause of death was listed as severe hypoxic ischaemic encephalopathy, meaning the brain is starved of blood and oxygen. while maternal Covid-19 was listed as a secondary cause.
Speaking after the hearing, Carl said: "They told me he'd tested positive for coronavirus too, which meant I wouldn't be allowed to see him or hold his hand."
Speaking from the couple's home in Maesteg, Bridgend county, Carl said doctors waited until Kimberly was well enough to go with him to say goodbye before turning their baby son's life support off.
He said after going to the hospital to be induced, Kimberly had told staff "something's not right", and was given some pain killers before collapsing.He added: "By now the baby's head was showing and they had to try and get the baby out quickly, but it was too late for him.
"The night before, I'd watched Coolio kicking like mad inside Kim's tummy. I just can't believe any of this happened. It is beyond cruel."
The 49-year-old said the couple considered Coolio their "miracle baby" as they thought they were too old to have children.
Coroner Graeme Hughes listed a final inquest for 28 April.
Senior coroner's officer Lauren Howitt told the hearing "the mother was found to be Covid-19 positive soon after delivery".
No post-mortem examination was carried out and Mr Hughes asked his officers to investigate the circumstances of the death ahead of next year's hearing.
He said: "I pass on my condolences to the family in these most sad and depressing circumstances"