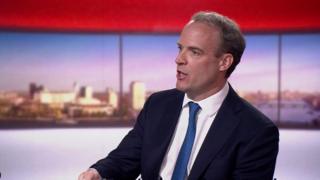 The foreign secretary has defended the government easing of lockdown measures in England from Monday, despite the country's Covid-19 alert system indicating high levels of transmission.
Dominic Raab said England is "transitioning" from level four, when there should be enforced social distancing measures, to level three, when they can start to be relaxed.
He said the approach is "cautious".
Scientists who advise ministers have voiced concerns about easing the rules.