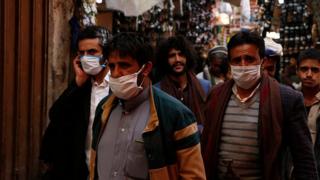 More than four million confirmed cases of coronavirus have been reported around the world, according to data collated by Johns Hopkins University.
The global death toll has also risen to above 277,000.
The US remains the worst-hit country, accounting for the over a quarter of confirmed cases and a third of deaths.
Experts warn the true number of infections is likely to be far higher, with low testing rates in many countries skewing the data.
Daily death tolls are continuing to drop in some nations, including Spain, but there is concern that easing lockdown restrictions could lead to a "second wave" of infections.
In addition, governments are bracing for economic fallout as the pandemic hits global markets and supply chains.
In some of the biggest recent developments:
In England, all care home residents and staff will be able to access tests from Wednesday, whether or not they have symptoms – meaning millions more people will be eligible for testing
Residents of France will be required to wear masks on public transport and in secondary schools when the country begins to ease its lockdown on 11 May. Non-essential shops and markets will open their doors again and schools will reopen gradually.
The US House of Representatives has abandoned plans to return to Washington next week. Several states, including Georgia and Texas, have pressed ahead with plans to reopen amid the infection rise.
China's president has expressed concern about the threat of the coronavirus to North Korea and offered help.
There is a shortage of personal protective equipment in Russia, President Vladimir Putin said, warning that his country had still not reached its infection peak. Russia has more than 93,000 cases and 867 recorded deaths.
In neighbouring Belarus, thousands of soldiers marched to celebrate Victory Day, as President Alexander Lukashenko rejected calls for a lockdown
British medical journal The Lancet has called President Jair Bolsonaro the biggest threat to Brazil's ability to contain the spread of coronavirus. Brazil is currently reporting the highest number of cases in Latin America, but the president continues to dismiss the severity of coronavirus and has clashed with governors over lockdown measures.