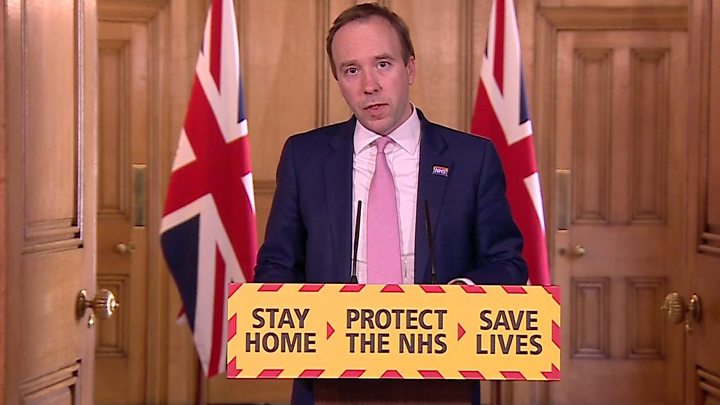 All essential workers in England – and members of their household – are now eligible for coronavirus tests, Health Secretary Matt Hancock has said.
Individuals who are on the list of key workers and need to book a test will be able to do so on the UK government's website from Friday.
At the daily Downing Street briefing, Mr Hancock said the move was "part of getting Britain back on her feet".
He added that the whole process would be free for those being tested.
Addressing the government's "challenging" target of 100,000 tests a day by the end of the month, the health secretary said capacity for carrying out tests was now "ahead of our plans" at more than 50,000.
"We are now able to expand who can get the tests," he said.
"Our ultimate goal is that everyone who could benefit from a test gets a test."
The government is also introducing home test kits as well as mobile testing sites, which will be operated with the support of the armed forces, Mr Hancock said.
Key workers who are unable to access the government's website will still be able to apply for a test, as employers are able to book on behalf of their staff from Thursday.
Mr Hancock said those who qualify as essential workers will be based on criteria similar to those used for deciding whose children can still attend school.
Hospitals have been carrying out tests, along with a network of about 30 drive-through centres in car parks, at airports and sports grounds.
But the drive-through centres have not always been in convenient locations which may have discouraged people from getting tested, BBC health correspondent Nick Triggle said.
Mr Hancock also announced steps that were being taken to help establish a network of contact tracers that will be used when lockdown is lifted, as he said a process of "test, track and trace" would be "vital" to stop a second peak of the virus.
He said infrastructure will be put in place so that contact tracing can be rolled out on a "large scale", adding that 18,000 people will be hired to trace coronavirus infections.
Also at the briefing, Prof John Newton, co-ordinator of the UK's coronavirus testing programme, said the government was "on track" to reach its target of 100,000 tests a day by the end of April.
He added: "We're going to have 48 of these pop-up facilities which can travel around the country to where they're needed most – for example, in care homes."