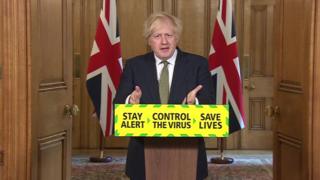 Boris Johnson has backed his key adviser Dominic Cummings, amid a row over the aide's travel during lockdown.
The PM said he had concluded Mr Cummings had "no alternative" but to travel to the North East for childcare "when both he and his wife were about to be incapacitated by coronavirus".
"In every respect, he has acted responsibly, legally and with integrity," he said.
It follows calls from several Tory MPs for Mr Cummings' resignation.
On Saturday, Mr Cummings and the government had said he acted "reasonably and legally" in response to the original claims that he drove 260 miles from London to County Durham with his wife, who had coronavirus symptoms.
The aide then faced further allegations on Sunday of a second trip to the North East, reported by The Observer and Sunday Mirror.
But, speaking at Downing Street's daily coronavirus briefing, Mr Johnson called "some" of the claims "palpably false".
"I believe that in every respect he has acted responsibly and legally and with integrity and with the overwhelming aim of stopping the spread of the virus and saving lives."
Mr Johnson said he held "extensive" discussions on Sunday with Mr Cummings, who he said "followed the instincts of every father and every parent", adding: "And I do not mark him down for that."